Internetics will award the best digital projects and campaigns in Romania during the Internetics 2023 Awarding Gala, Tuesday, November 28th. The gala will be hosted by Andi Moisescu and will take place at NORD Events Center by Globalworth (4-6 Bd. Dimitrie Pompeiu). Following the awards ceremony, attendees will continue the celebration at an After Party featuring a DJ set by Vlad Dobrescu.

Access requires tickets, that can be purchased from oveit.com:
https://l.oveit.com/events/embed?id=1193edc568.

Internetics 2023 Awarding Gala Schedule:

18:45 - 19:30 – Welcoming drinks & Guest Reception
19:30 - 22:00 – Awards Ceremony
22:00 - 24:00 – After Party with Vlad Dobrescu

Join also the Facebook Event for updates & exciting reminders!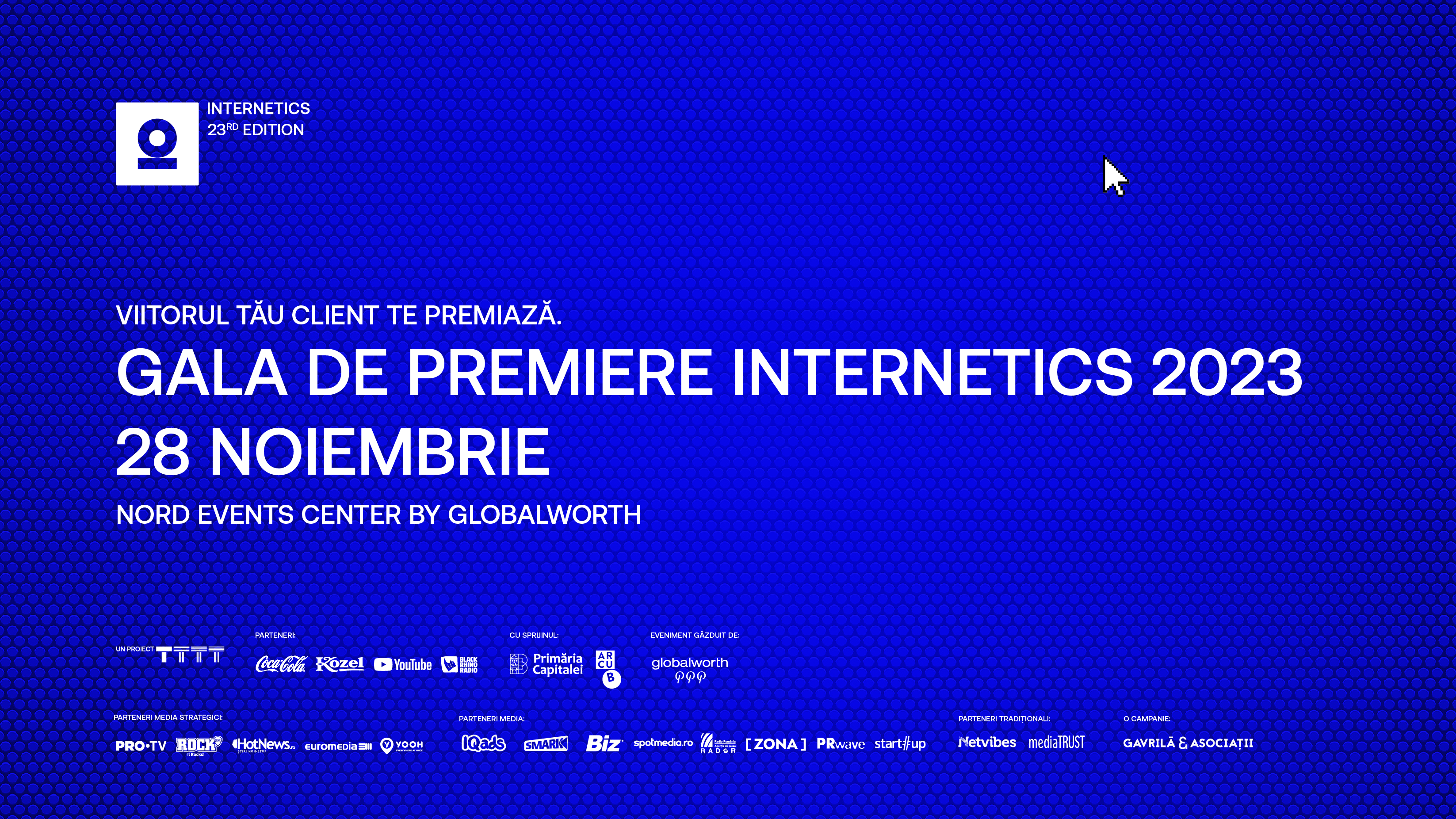 ***
The Internetics Awarding Gala is themed "Your Future Client" this year, emphasizing the composition of the competition's jury, mostly made of industry professionals. Internetics serves as a link, connecting jury members and marketing specialists with various agencies in the market, offering them the opportunity to examine their work, how they approach projects, and how they achieve significant results. Thus, agencies get the chance to present their best achievements to the jury, highlighting their approach to campaigns, strategic thinking, and implementation capabilities. Subsequently, the jury, representing clients, evaluates the projects and, by extension, the agencies, determining the top agencies in Romania. This connection between clients and all the significant agencies in the market generates a self-evaluation of each client's relationship with the agencies they collaborate with and brings potential new agency names into the spotlight for future pitches.

In 2023, the competition received 145 entries from 28 participating agencies and companies: Cheil | Centrade, DDB România, Dentsu Creative România, Golin România, Heist Industries, Jam Session Agency, KUBIS, Leo Burnett, Mainstage The Agency, McCann Health Brain and Heart, Minio Studio, MRM, MSL The Practice, Ogilvy, Oxygen, Publicis România, Raiffeisen Bank România, Red Dots Agency, Saatchi Creative Hub, Sector7 HUB, Sonica Works, Tazz Creative Lab, The Hacking Work Team, Three, Tremend Software & Softeh Plus & Costin Radu & Dragoş Lupascu, Tribal Worldwide România, v8 şi VMLY&R.

***
Internetics is a project by THE INSTITUTE.
Partners: Coca-Cola, Kozel, YouTube, Black Rhino Radio
With the support of The Bucharest Municipality through ARCUB
Event hosted by: Globalworth
Strategic Media Partners: Pro TV, Rock FM, HotNews.ro, Euromedia, YOOH
Media Partners: Iqads, Smark, PRwave, BIZ, Spotmedia, RADOR, Zona IT, Start-up.ro, Nine O'Clock
Traditional Partners: Netvibes, mediaTRUST
A campaign by: Gavrilă&Asociaţii