Internetics 2017 - the festival dedicated to branding, marketing and online advertising - will be rewarding the best creatives on November 24th, during the Awarding Gala at DESCHIS Atelier. The celebration will continue with an after party which will take place at DESCHIS Gastrobar.

The winners of the Internetics 17th edition will be revealed at the Awarding Gala, starting 7:30 PM at Deschis Atelier (160, Splaiul Unirii). The location is generally open to social and arts events and it gave a whole new life to what used to be a former section of the Cotton Industry Factory. Its current design, functionality and placement add up to the original elements of the space, creating a great context for workshops, movie nights, corporate events and more.


Andi Moisescu, general producer of APROPO TV, will be the host of the Gala. He will be announcing the winners from a total of 131 submitted works belonging to 24 agencies and companies for 51 brands.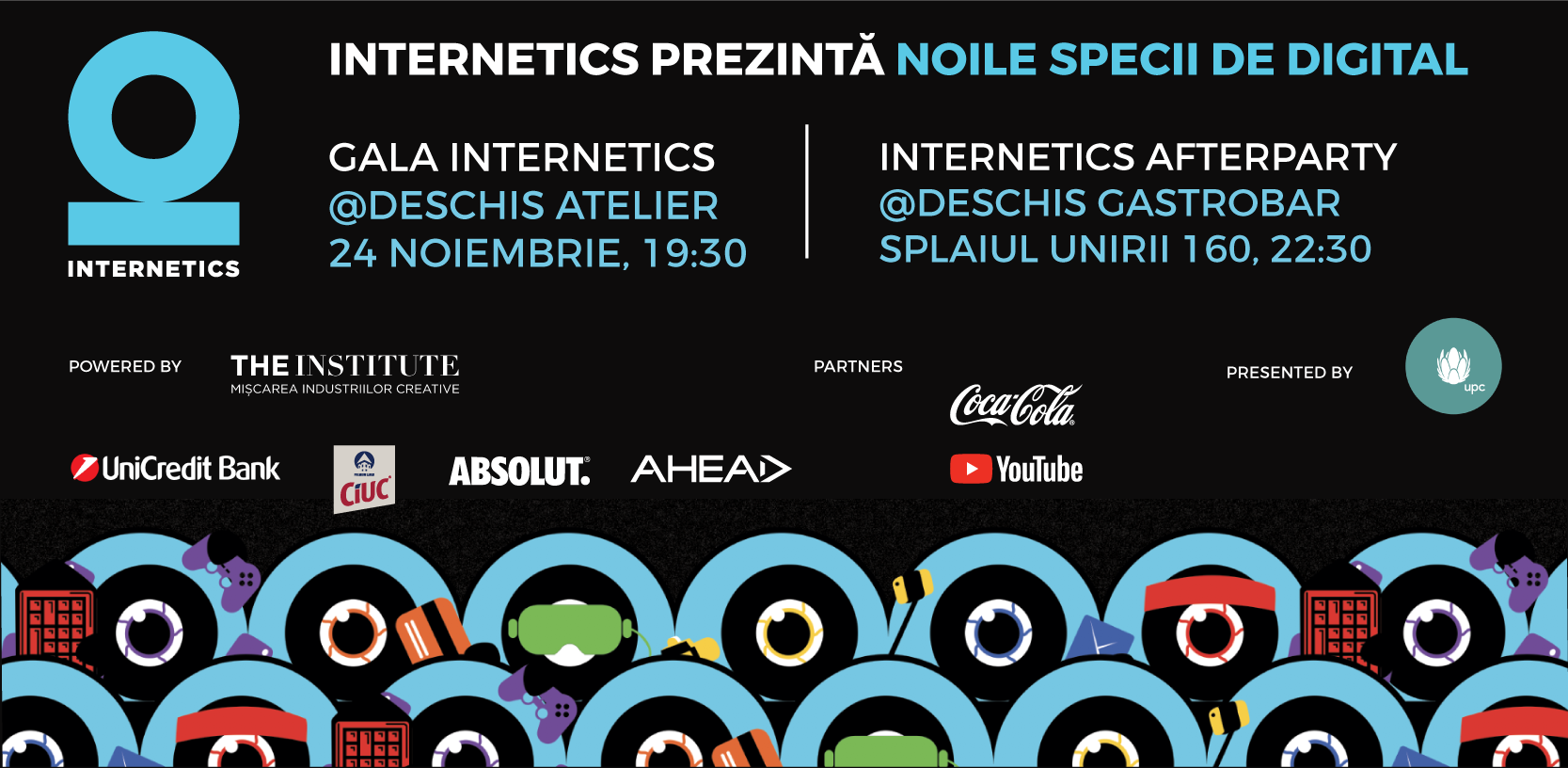 The Gala is followed by an after party, starting 22.30 PM at DESCHIS Gastrobar. The highlight of the event is DJ Vasile, a musician whose eclectic style is known for over two decades. DESCHIS Gastrobar is a place for the active-creative community, featuring both an indoor and outdoor space. The indoor represents an extention of the already popular rooftop and it functions as a restaurant during weekends and in the evenings (after 6 PM).

Access for the after party is free, but you need to book your place here.
Further details regarding participation can be found on the Facebook page event.

The rewarded works will be selected by a jury made up of 33 specialists belonging to various fields: IT & Electronics, telecommunications, financial services, FMCG, retail and also independent consultants. They will decide who is going to take the Silver and Gold trophies for each category and also the special annual prizes for "Best Use of Technology" and "Most Creative Client of the Year". The end of the Gala will reveal the Agency of the Year in 2017 according to a score given by the number of nominations and trophies.


The participation for the Awarding Gala requires a ticket, which can be purchased from The Institute team. For reservations and further details, please contact teodora.calin@institute.ro.
***
Internetics 2017 is

SPONSORED BY: UPC
POWERED BY: THE INSTITUTE, UniCredit Bank, Ciuc Premium, ABSOLUT, AHEAD
PARTNERS: Coca-Cola, YouTube