The Awards Gala of the Internetics 2020 competition, a project initiated by The Institute and supported by UniCredit Bank, announces a special program for this year's anniversary edition. The event's 20th edition takes place exclusively online, in the video game Minecraft, and includes a panel discussion, but also a concert performed by Vița de Vie
On Tuesday, 13th of October, starting with 7 PM., the participants at the Premiere Gala are invited to discover a digital replica of the Romanian Athenaeum, reconstructed in the Minecraft universe, which transposes the user into a world where creativity has no limits and, at the same time, to participate in the first live concert held in the video game in Romania. 
In the opening of the gala,
Andi Moisescu
will moderate a discussion about the evolution of online communication, but also about the competition, during its 20 years of existence, together with
Andrei Borțun
, CEO of The Institute,
Anca Ungureanu
, Director of Identity and Communication UniCredit Bank and
Kris Hoet
, Global Chief Innovation Officer at FCB & President of the Internetics 2020 Jury.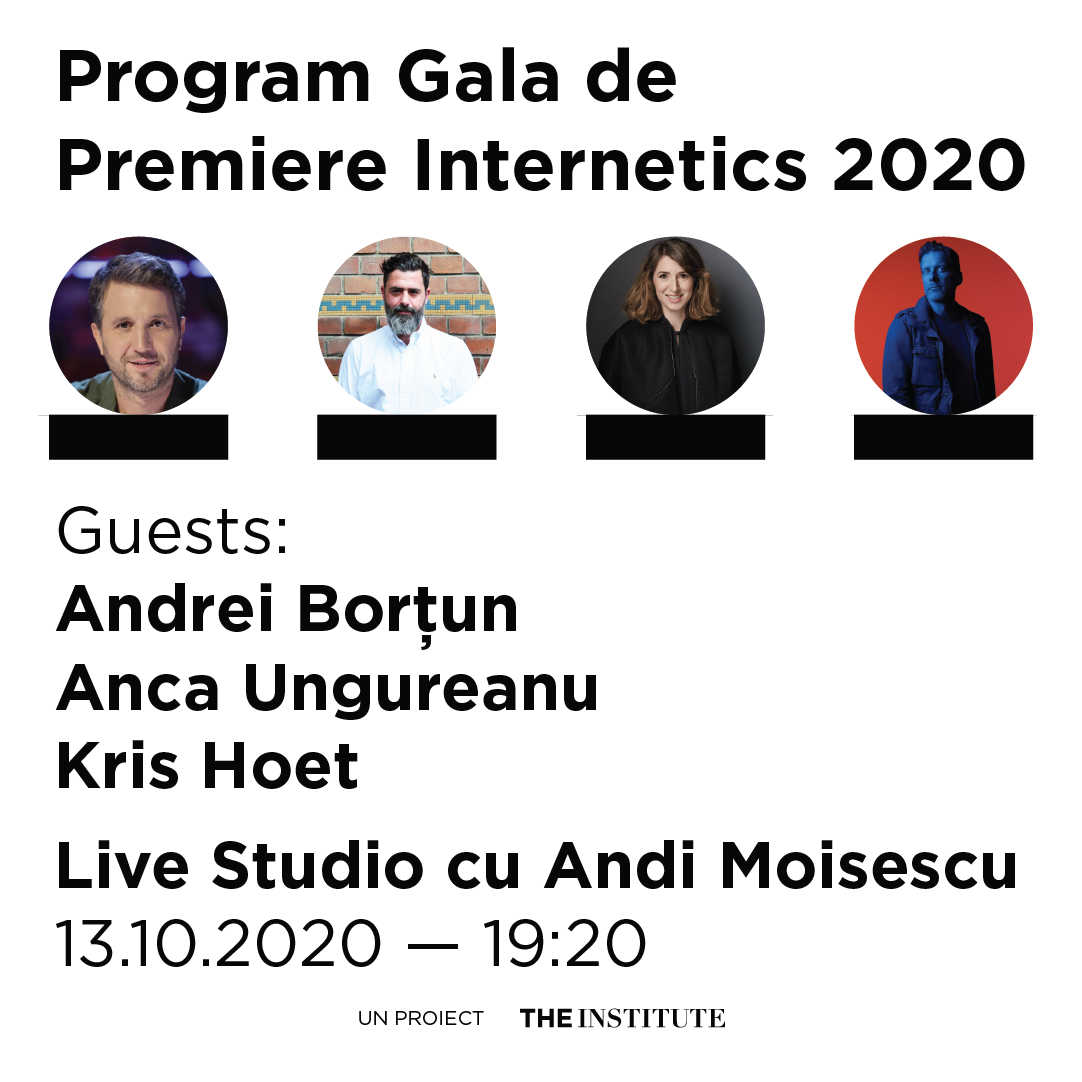 A concert performed by Vița de Vie will be held in Minecraft with the help of the band's avatars.
 
The Internetics Awards Gala will be broadcasted live from the digital version of the Romanian Athenaeum, built in Minecraft with the support of the Nexus Gaming team, and on the Internetics Facebook page.
 
Access to the event is limited, and the steps to participate can be found
here
. 
Internetics 2020 Program:
19:00 - Discover Internetics. Discover Minecraft: participants will be able to log in to Minecraft and explore the space created especially for this gala
19:20 - Live Studio with Andi Moisescu: discussion panel moderated by Andi Moisescu, with Andrei Borțun, CEO of The Institute, Anca Ungureanu, Identity & Communication Director of UniCredit Bankand Kris Hoet, Global Chief Innovation Officer at FCB and President of the Internetics 2020 jury
20:00 – Vița de Vie concert
20:20 - Start Internetics Premiere Gala; moderator Andi Moisescu, Minecraft avatar
 
 
The event is dedicated exclusively to people over the age of 18 and has limited access.
This is not an official Minecraft event.
Internetics 2020 registered 208 entries in the competition, from 53 participants. The works, divided into the three main categories of the festival, are judged by specialists in marketing, online communication, research and media experts, independent consultants and representatives of online consulting boutiques in Romania.
This year, Internetics celebrates 20 years since the organization of the first event, having a jury consisting of a series of professionals in online marketing and advertising from Sweden, the Netherlands and Germany.
Another unique element of the Internetics 2020 Anniversary Gala is the trophies offered. In addition to the digital trophies, handed out virtually in Minecraft, Internetics will also offer physical trophies made of recycled plastic, accordingly to the PlastiPrix initiative, created by The Institute and Lidl Romania.
Internetics 2020 partners:
A project by: The Institute
Main partner: UniCredit Bank
Partners: Absolut, Coca Cola, YouTube
Media partners: Biz, IQAds, Smark, Paginademedia.ro
Research partner: Starcom
Gaming partner: Nexus Gaming
Creative partner: Gavrilă & Asociații
Video: Rusu + Borțun
PR: Dăescu Borțun Olteanu
Official suppliers: 360revolution, kaustik, MediaTrust România